The NBN Network is Australia's Largest Network, with coverage of over 98% of the population.
The NBN Network comes in many different speeds to cater for all budgets.
You can easily check if the NBN is available at your premises by using the online NBN Check tool.
What different technology types can connect to the NBN Network?
Fibre to the Premises (FTTP)
The best type of NBN connection available. Fibre to the Premises or FTTP for short brings high speed fibre optic cable from the node directly to your house or premises.
Customers lucky enough to have this option can in some cases achive up to 1Gbps downloads and 400Mbps uploads.
Fibre to the Building (FTTB)
Fibre to the Building is a technology typically used to connect whole apartment blocks to the network.
Fibre optic cable is generally run to the buildings basement. From here the existing cable within the building is then used to connect each customer.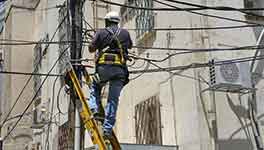 Hybrid Fibre Coaxial (HFC)
Hybrid Fibre Coaxial uses the existing Pay TV or Cable TV network wires to connect customers to the nearest NBN fibre node.
This option was plauged with teething issues due to the age and deteriation of the cable TV network and initially put a halt to all new NBN connections until the issues could be resolved.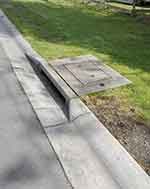 Fibre to the Curb (FTTC)
Fibre to the Curb is a great new option where Fibre Optic cable is brought all the way to the pit located under the footpath outside you or your neighbours home.
From the pit a Distribution Point Unit (DPU) is used to connect to the existing copper phone cables which bridge the gap for the final connection to you and usually up to 3 neighbours.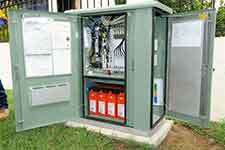 Fibre to the Node (FTTN)
Fibre to the Node places random fibre connected cabinets scattered throughout suburbs.
Existing copper cables are then used to connect homes to these nodes, the distances to each of these nodes can vary for each customer thereby giving somewhat inconsistent results.
What Speeds are available on the NBN Network
The NBN comes in many different speeds and data allowances to suit all budgets great or small. So weather your the most frugal not even earning the minimum wage as is legislated in the fair work act or your a seasoned executive and have a 6 figure salary and a golden parachute, you can be sure one of the NBN Providers will have the right plan for you.
For the most part the NBN Network comes in 4 different speed tiers, each tier will generally have different data allowances and are priced accordingly to the value that they offer the customer.
NBN Network Speed Tiers
NBN100 - 100Mbps Download, 40 Mpbs Upload
NBN50 - 50Mbps Download, 20 Mpbs Upload
NBN25 - 25Mbps Download, 10 Mpbs Upload
NBN12 - 12Mbps Download, 1 Mpbs Upload
How much data allowance should I get
Calculating the amount of data that you need can be a very tricky proposition. Factors that need to be taken into consideration before signing up to a NBN plan are:
How many people are living in your household.
The more people that are consuming data will mean a higher data allowance will be needed.
Do you have a movie subscription such as Netflix, Stan or Amazon Prime.
Online movie steaming services can consume a surprisingly large amount of data, if you have or plan to get a movie subscription you should opt for a very high data allowance.
Do you need to upload large files.
If your a game developer for instance and need to upload very large files you may want to take your upload speed into consideration when signing up for a plan.
Don't forget to check if your NBN plan comes with a static IP if you require one.
Which ISP can provide the Best NBN connection?
Web page loading times and latency (important if your a gamer), do vary between the various NBN network providers, check out the tables below for the latest NBN network statistics.
page speed | latency
Oct 2019
Aug 2019
Nov 2018
Aussie Broadband

2.6

|

12.7

2.6

|

13.2

2.7

|

13.5

Dodo and iPrimus

3.2

|

25.1

3.3

|

29.5

n/a

|

n/a

Exetel

2.4

|

12.3

2.6

|

13.7

n/a

|

n/a

iiNet

2.8

|

14.3

2.8

|

13.7

2.6

|

16.2

MyRepublic

3.1

|

19.3

2.8

|

22.0

2.6

|

17.1

Optus

3.1

|

13.6

3.2

|

15.1

3.0

|

14.1

Telstra

2.6

|

11.7

2.7

|

12.0

2.4

|

12.1

TPG

3.3

|

12.6

3.1

|

12.6

3.2

|

12.4

Table showing the web page load times and latency times of the top 8 NBN Network Providers